Key opportunities for SMEs to unlock cost and time savings to fuel growth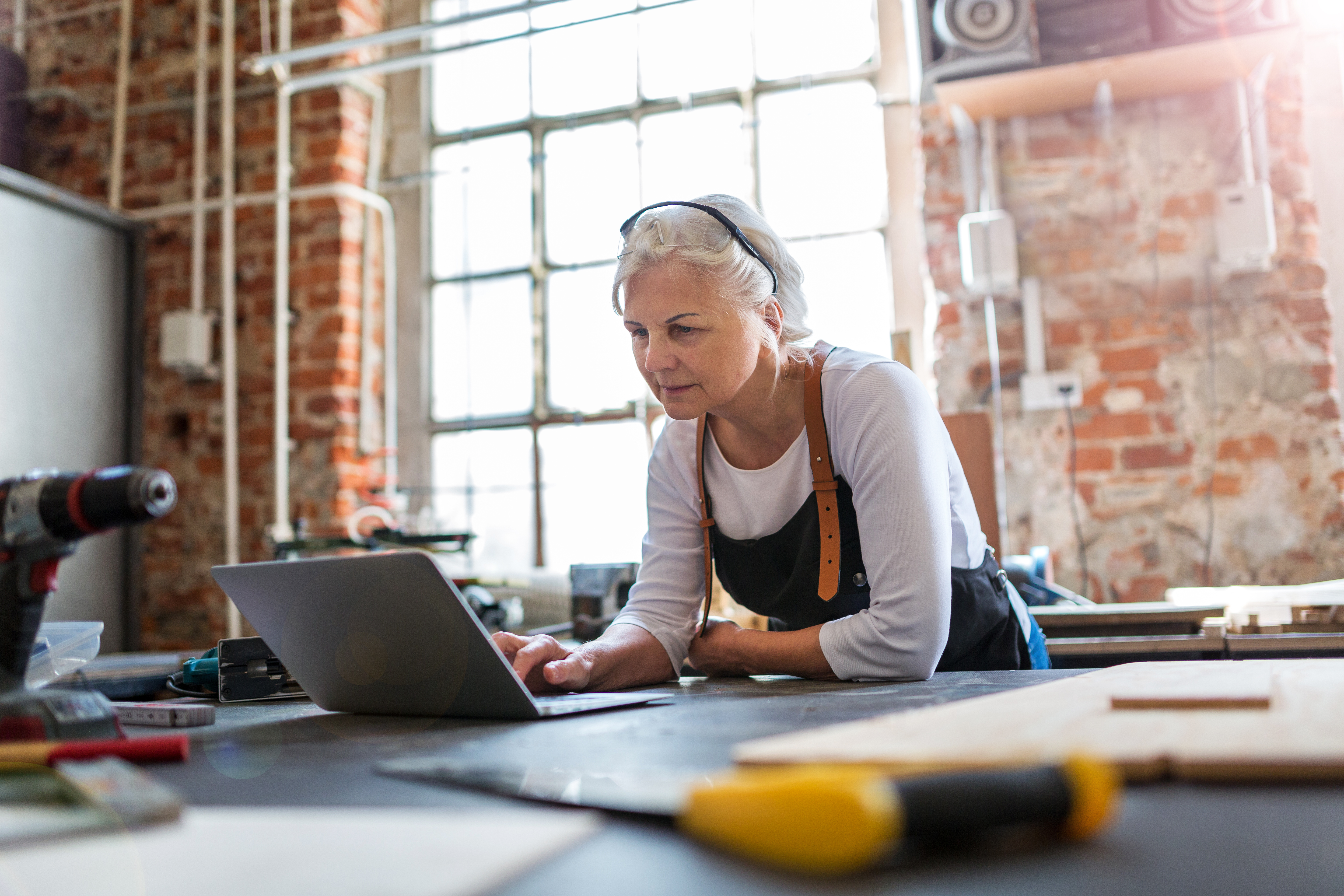 To thrive in the post-pandemic world Small and Medium Sized Enterprises (SMEs) – long the back of the UK of the economy - need to adapt to the financial landscape, which is increasingly complex and consumer-centric.
SMEs are one of the most important end-user groups in the payments ecosystem, which is why we commissioned research with Revealing Reality into their payment behaviours, needs and challenges. The full report, published today, is available here.
There are many new and emerging payment solutions which can help make operations more efficient and accelerate business growth, but businesses are not always adopting them.
Our research explores the reasons for this – including lack of awareness and resistance to change – and reveals the key areas where SMEs can switch to new processes that will save time and money, allowing entrepreneurs to focus less on admin and more on growing their businesses.
Challenges and opportunities
Manual reconciliation of payments is still used by many businesses even though it can take up a large amount of time and, ultimately, cost them more money. One in four SMEs which took part in the research reported high costs and lengthy times associated with manual reconciliation. On average, SMEs spend approximately 3.6 hours a week manually reconciling payments.

Which payment methods have you used in your business for outgoing and incoming payments?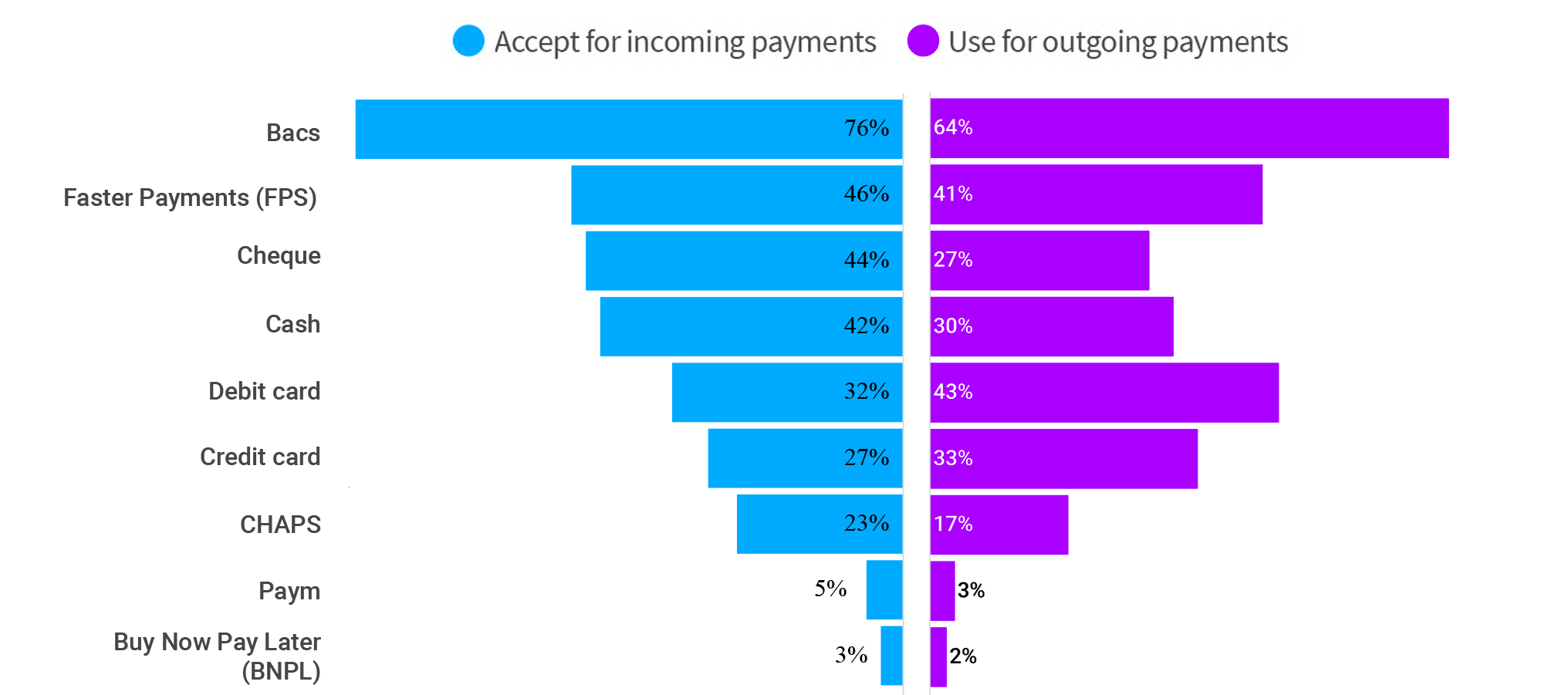 The time and costs associated with processing card payments, too, is a key theme highlighted in the research. A third of businesses report card costs as "significant". While some SMEs have considered moving to other cheaper methods, such as Direct Debit, many have not properly considered the impact of the cost of cards or realised there are cheaper ways to run a business.
We believe these challenges can be addressed by better supporting SMEs to use newer and more automated systems, as well as work with payment service providers to improve existing and develop new products that are SME centric. This will make reconciliation easier and provide alternatives to costly card payments, among many other benefits. Such relatively simple steps have potential to save both time and money for entrepreneurs and remove barriers to growth.
About our research
This is our first major investigation into SMEs and is part of our wider work on understanding our end-users and their payment journeys. We investigated:
SME payment and banking behaviours
Drivers and barriers to adopting new payment methods
'Pain points' that SMEs have with their current payment systems that are impeding their business activities
Awareness and attitudes to new and emerging payment methods and technologies
The insights provide a comprehensive overview of the payments challenges faced by SMEs and the opportunities the ecosystem can seize to innovate in this area.  While there are already a large number of payments-related products and services that exist to help SMEs overcome particular challenges, companies are not always aware of them.
Common issues with reconciliation among the SMEs surveyed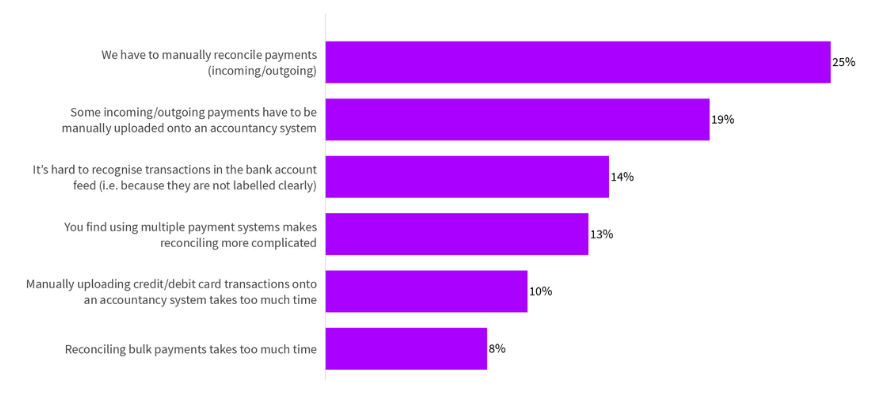 Next steps
As a platform leader we are uniquely placed to help with the introduction of more efficient products and systems through three approaches to industry innovation:
Fostering collaboration to deliver either stand-alone propositions or solutions that are integral parts of our platform. For example, we are currently working with a coalition of stakeholders to deliver Variable Recurring Payments, which will allow businesses to collect a recurring payment without the customer needing to authorise each time.
Enabling innovation and competition by making enhancements to our current and future payments platform - such as improvements to key processes supporting Direct Debit and Direct Credit to allow overlay providers to develop propositions that help SMEs.
Facilitating innovation and competition by providing deep insights and encouraging market collaboration. Our research found that Request to Pay (RtP) could help SMEs significantly improve their processes around bill payment and reduce reliance on otherwise time-consuming manual reconciliation, and we're equipping the market to seize that opportunity
We plan to host a roundtable with SMEs and their representative bodies, players in the payments ecosystem and regulators to discuss key points that have emerged from the research. The main points of discussion from the roundtable will be published as an update to today's release. If you're interested in SME payment solutions or a business that wants to seize the opportunities on offer please get in touch and take part.
Our ongoing research into end-user groups will ensure that our infrastructure, products and services allow end-users to thrive in an increasingly digitalised world, making us the smartest way to move money, now and in future.